What a big year for board games apps and the digital board game world! We saw some much anticipated games make their way onto our devices, some much delayed games finally make an appearance and some huge games being announced for the future. That meant choosing games for our first end of year list a tricky prospect! We wanted to make sure we gave mention to all of the games we enjoyed in 2019 but frankly there were too many to mention. So just because the game might not make it into our yearly awards doesn't mean it isn't worthy of your time so you should check out our review database to make sure you don't miss any gems we might not have mentioned.
So without further ado here are our awards for the best board game apps of 2019…
8Bit Meeple End of Year Awards
Best Quick Game of 2019 – Twice as Clever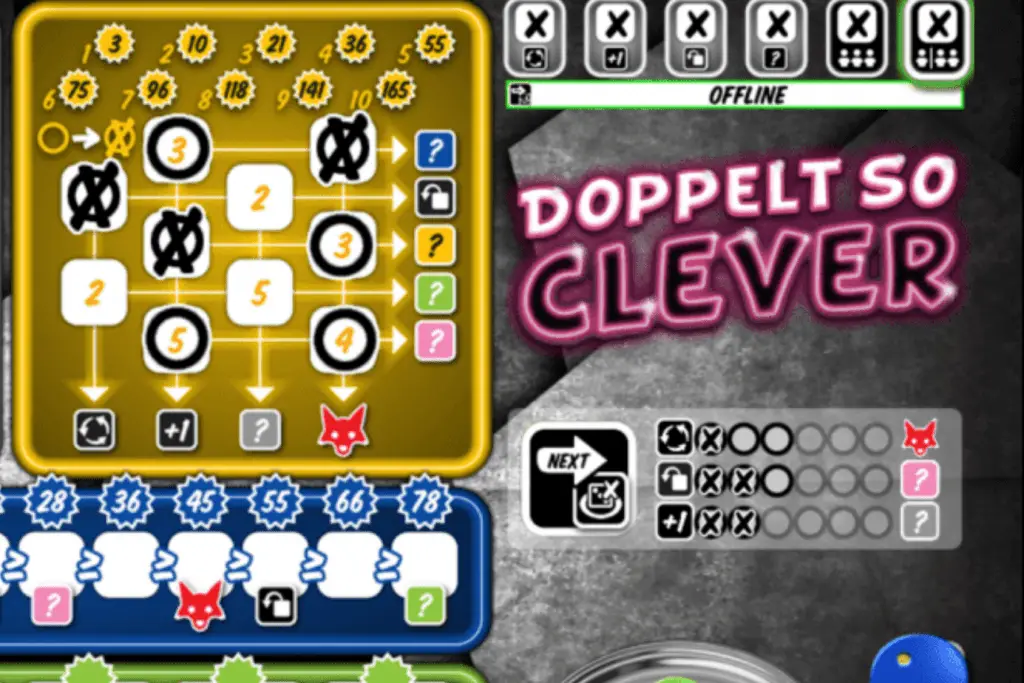 Twice as Clever (or Doppelt So Clever in it's native German) was the follow up to one of our favourite quick games Ganz Schon Clever. It's a roll and write who's success comes from the fact that you not only can complete a game in 5 minutes but from the addictive nature that means you will be saying "just one more play" as you try to beat your own score over and over.
Best Long Game of 2019 – Raiders of the North Sea
Raiders of the North Sea is a fantastic worker placement game that truly is a complete package of beautiful presentation and huge feature list. Raiders boasts some of the best visuals of any board game app and thankfully the play matches this. If you enjoy a medium weight worker placement game and have around 30 minutes to spare you can not go wrong with Raiders of the North Sea.
Best Presentation of 2019 – Santorini
In all honesty Santorini could have won any number of categories. It's a fantastic chess like game with rules which are easy to understand but difficult to master. The real strength of this game is the wealth of Gods you can be which each come with their own unique rules and play styles which offers you endless replay-ability. However it is the beautiful art style, glorious 3D graphics and cute character design which means that Santorini was the obvious choice for the award for best presentation.
Check out our review of Santorini to find out more about this great game.
Most Consistently Challenging Game of 2019 – Coffee Roaster
I am always on the hunt for games which will keep me playing time and again by offering me a truly fun challenge that isn't so hard as to put me off. This year the award for the most challenging game of 2019 is Coffee Roaster, a bag building game in which I feel like I am close to getting a great score every time I play but more often than not I fail to win. Coffee Roaster is a smart take on coffee roasting and brewing that suffers from a lack of comprehensive tutorials however once you know how to play you will find yourself coming back for more just to try and actually brew that perfect cup.
Most Played Game of 2019 – 7 Wonders Duel
Of all of the releases of 2019 7 Wonders Duel has been our most played game. As a two player variant of one of the most popular card drafting games 7 Wonders it was always going to be a popular port. 7 Wonders Duel takes most of the game play we loved and condensed it into a 5 minute experience with the same level of agonising decision making and ancient wonders theming. This was my most played game released in 2019 despite a huge issue with the difficulty of the AI which is severely lacking; however if you are looking for a quick 5 minutes hit of 7 Wonders card drafting then look no further.
Read our review of 7 Wonders Duel to see if it's a game you might not be able to put down.
Most Anticipated Game Announced in 2019 – Root
Root the board game ticked a lot of my boxes from the off; medieval theme, asymmetric game design, cute woodland creatures, tick, tick, tick. So when I heard that Dire Wolf Digital had started work on the digital adaptation of Root it shot up my list of the most anticipated games announced in 2019. Here's hoping that this version finds its way onto my device early in 2020 so I have the full year to enjoy what I am sure will be a beautiful adaptation.
Game of the Year 2019 – The Castles of Burgundy
I'd only picked up and played the physical version of The Castles of Burgundy at the beginning of the year and the instant I did I headed straight to the app store to find out if there was an app version for me to try and master. Thankfully DIGIDICED had just released their app adaptation of the game and I'm delighted they had. The ability to play a deep euro strategy game on my phone while I'm on the move is a revelation and the fact The Castles of Burgundy is simple to teach to anyone but offers enough depth means that is came out on top as the best board game of 2019.
Check out our review of the game of the year
There's so many games we have played, still play and want to play that were released in 2019 and this list is by no means definitive. If you think we have missed a game worthy of making it into one of our categories let us know!